Oleah Chronicles: Truth
I received a hard copy for an honest review
PAGES: 220
What would you do if everything you thought to be true in your life were a lie?

Sixteen-year-old Angel Seriki is forced to face overwhelming truths about her so-called ordinary family when she meets Zander Black; a new student to her high school who is smart, charming and devastatingly beautiful. The revelations he uncovers to her about a danger that threatens to resurface from a past she never knew was her own, changes everything. Life as she knows it will never be the same again. In order to keep her family safe, she has no choice but to trust Zander, despite his connection to her enemy. He's the only resource she has if she ever expects to understand the true reality of who and what she is. However, things become complicated when neither can ignore the magnetic energy between them. As their relationship and feelings deepen, so do the risks involved. She must now accept her fate, Even if that means giving up everything she knows, including being human.
Review:
P
romising concept!
Oleah,
half lion, half human. I am an advent supernatural reader as well as young adult. And the concept of the book had me! I was very interested in reading the novel. When reading this book I was very pleased about the origins of the characters. I found the main character Angel to be a little naive and obvious. The romantic connection between Zander and her was okay. The pace of the novel was fast paced, perfect for this novel because it contained a lot of information. The one thing I didn't like was some of the dialogue. Sixteen-year-old that I know don't use certain terms. But all in all, it was a cool read.
rate:3/5 stars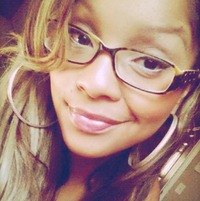 Throughout my childhood, I was a
lways told I had a very creative imagination. I was drawn to stories of mythical creatures and all things that would usually give my peers the
heebie
geebies
. Shows like Tales from the Crypt Keeper and Buffy the Vampire Slayer were among some of my favorites.
I developed a strong passion for design and illustration, drawing the ideas that arose in my head and finding great excitement in bringing them to life. This led me to pursue a career in graphic design and marketing so that I could always use my creativity to the fullest.
I have always loved reading and the way a compelling story would allow my mind to absorb its detailed imagery. I began to use writing as a tool to bring my creative thoughts to fruition one day, which has brought me to this moment.
I'm a romantic at heart and a sucker for stories about true love which is reflected in my writing and helped bring the Oleah Chronicles to life. I hope you enjoy my first book and through it you experience the eccentric vision that began in my mind so long ago